How our special type K thermocouple sensor measured up!
A well know UK fusion research laboratory, based in Oxfordshire, emailed Sterling with a requirement for temperature sensors for a Research & Development rig, which was being commissioned for a new project.
One of our engineers contacted the customer to establish what was required. They had been recommended to Sterling Sensors by a colleague who had used us previously to manufacture bespoke mineral insulated thermocouples. The customer identified that the rig consisted of a series of stainless steel pipes and vessels, which required thermocouples in a total of 15 points. There were various pipe and vessel sizes. The temperature requirements ranged from 50 to 200 °C. Also, a type K thermocouple sensor was needed to be compatible with their current data acquisition system.
As well as the wide temperature range, the customer wanted the thermocouple sensor to be easily replaced and removable for periodic calibration and testing.
Once we had this information, we returned to the customer with a solution. An industrial temperature assembly with removable type K insert for easy sensor replacement was selected.
The only variable for the product we had identified was the insertion lengths. To help the customer, we sent them editable technical drawings (as below) for our industrial thermocouple sensor assembly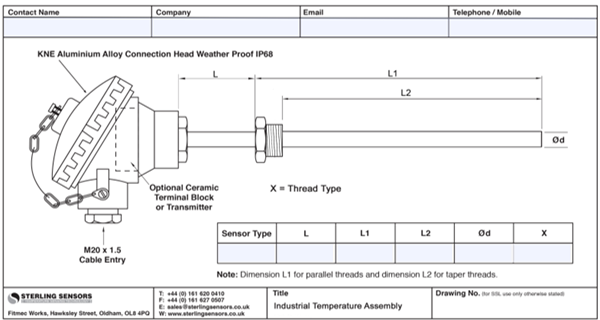 This made it easy for the customer to specify the lengths required for each area of the rig, giving them confidence that the thermocouples were going to be 'right first time'
We had received all the drawings and we were able to quote the 15 bespoke fabricated type K thermocouple sensors with a total of 8 different insertion lengths and removable inserts, we also provided a complimentary calibration of each sensor to the customers required temperature points.
The customer commissioned the project and raised a Purchase Order with us and used the drawings as a technical reference to relay the exact information required. The thermocouples were manufactured, delivered and installed, with the customer commenting 'I was very impressed with the timescale that Sterling provided a solution and the thermocouples, once again well done!'

Do you have a custom thermocouple sensor requirement?
Give us a call on: +44(0)161 620 0410 or E-mail us on: technical@sterlingsensors.co.uk
Or view our standard range here!