Type K Thermocouple Technical Reference
In our Type K Thermocouple technical reference section you will find resource material covering all aspects of type K thermocouples, from basic theory, product section to accuracy, colour code and output reference charts.
If you have a question that isn't answered here, why not ask us via the contact form or call us.
1. What is a type K Thermocouple (How they work)?
All Thermocouple types work on the same basis, they consist of two wire legs made from dissimilar metals (Nickel-Chromium / Nickel-Alumel in type K) which are fixed together at one end, creating a junction (Fig 1.). When this junction experiences a change in temperature a voltage is created, this voltage can then be measured and referenced back to the temperature.

2. Why use a type K Thermocouple?
There are a number of benefits to using thermocouple temperature sensors; this includes its wide temperature range. For example, the most popular type of thermocouple is type K as it can be used in a very wide temperature range of between 0 and 1100 °C continuously. However, some thermocouples have a much higher temperature range, measuring over 2000 °C. They are also very robust, especially when using mineral insulated cable. Thermocouples are a more simple device and versatile. You can have fast response versions or hand held probes, as well as types which are designed to be used in chemicals or harsh environments. Mineral insulated versions offer a very durable sensor which can withstand vibration and harsh environments
3. Type K Thermocouple Technical Overview
The below table shows the most common attributes of Type K Thermocouples including temperature range, material, tolerance and sensitivity.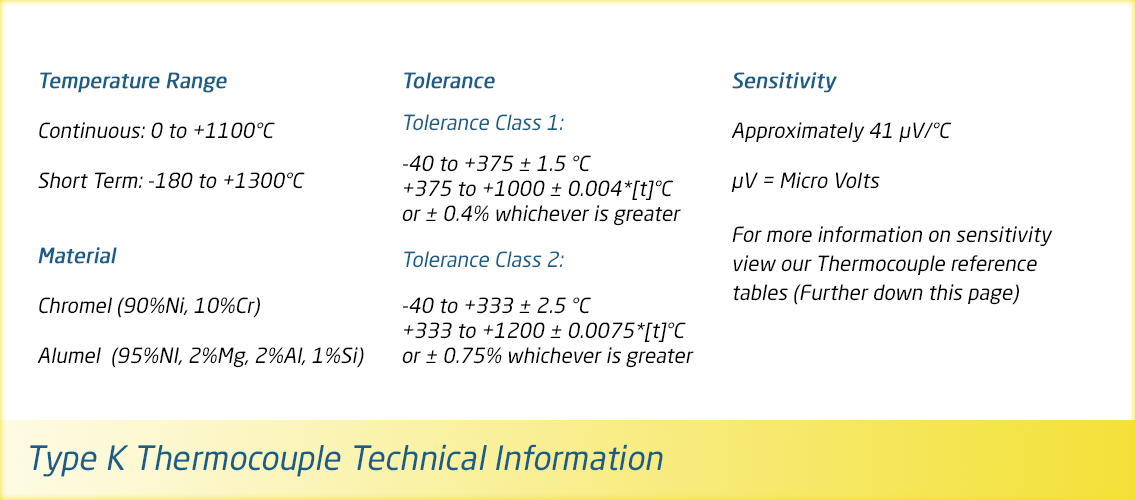 3. Styles of type K Thermocouples
Below you can find the difference between our Type K Thermocouple categories and find out which style will suit your application.





4. Advantages & Disadvantages of Type K Thermocouples
There are a number of benefits to using type K thermocouple temperature sensors, but they also have disadvantages as highlighted below:

5. Type K Thermocouple Colour Codes
The below table shows the international standard colours for Type K Thermocouple cable including IEC, BS, NFE, DIN, JIS & ANSI.
6. Type K Thermocouple Accuracy & Usage Chart
The below table shows the tolerances for specific thermocouple type K temperature ranges, and recommended temperatures for short term and continuous use.

7. Type K Thermocouple Accuracy Tolerances
8. Type K Thermocouple Extension and Compensating cable information
The below table shows ambient cable temperature ratings and the tolerances cable must meet to fit the type K standards.


9. Type K Thermocouple Reference Tables
The PDF documents listed below have an ITS-90 table giving accurate millivolts per degree (C°) for thermocouple reference. Click here to view reference tables for other Thermocouple types.

Can't find what you need?